When people contact me about their design projects, it's usually because they're looking for a change; some are ready to renovate entire homes, and some are looking for an update on what already exists. But the one thing they all have in common is creating a space for the life they're living now.
This is especially true when someone has experienced a huge life transition – like the death of a spouse or partner. While it can be tempting to make a major change when something like this happens, most financial experts encourage people to wait before making such an enormous decision.
"I've seen people make big financial and real estate decisions very soon after losing their spouse," says Kristi Sullivan with Sullivan Financial Planning, LLC. "Often they're acting out of overwhelming emotion and not considering the full financial implications of their actions. I encourage clients to make changes to their current homes if they can – it's a lot easier to repaint than it is to undo a move that you regret."
Don't worry – you're not the only one
"When my husband passed, one of the first things I did was redecorate our bedroom," says Confessions of a Mediocre Widow author Catherine Tidd. "I needed a retreat and a space that was mine. Throughout the following years, I made other small changes to the house, but creating that sanctuary was the best thing I could have done for myself. I later found out that that's something a lot of other widows do, too."
But sometimes making those changes can be overwhelming. That's why I've come up with several things you can do on your own and a few things that an expert might help you with.
Do it yourself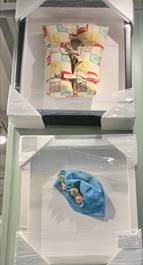 Pick items from your loved one's favorite hobby or wardrobe and have them framed.
Having mementos artfully displayed not only personalizes your space, it's a wonderful way of remembering your spouse or partner.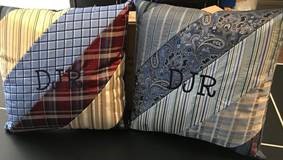 Select some clothing items with your favorite colors and use them to make accent pillows.
This is not only a great answer to what to do with some of your partner's clothing, an issue that plagues most widow(er)s, it offers comfort as well. This is also a wonderful thing to give to children and other family members.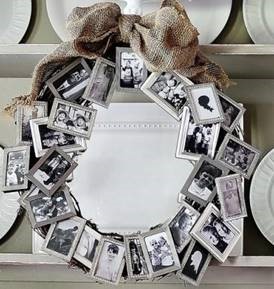 Create a photo wreath using your favorite family photos.
Having a photo wreath is a meaningful way to remember experiences with your loved one. It also provides a great conversation starter ("I remember when we did that…") when friends and family visit.
Call an expert
You're undecided.
Need help determining items to use in the DIY projects? An interior designer can help you choose what you showcase.
You're not sure how to display things.
An interior designer can look at what you have with fresh eyes. Not only can we take what you have as far as furniture and current picture walls and rearrange them so the room feels new, a designer can also help you incorporate mementos into the room and give you options on how to showcase them.
It's hard to let go.
Anyone who has lost a loved one knows how hard it is to let go of certain items. An interior designer isn't emotionally connected to your possessions, so they can help you let go of things that no longer enrich your life.
I know from working with many clients who have experienced life transitions that making even small changes can feel overwhelming. But the end result is a home that is comforting and inviting and completely their own. By changing your home just a little, you're not only remembering your loved ones…you're also creating a space that makes you feel good when you walk through the door. And if you need an expert to walk you through these changes, I'm here to help. Michelle@KuInteriorDesign.com
Michelle Ku is a Denver, CO interior designer and owner of Ku Interior Design. Her projects  range from space planning, kitchen and bath remodels, large home additions, and full-home redesign, with a specialty in redesigning condominiums in the Denver metro area.  For more information including how to contact Michelle, CLICK HERE.