Ethical standards for sustainability have risen over the past years in hopes of healing our environment. Packaging companies have strayed from plastic, retailers are sourcing materials and labor more consciously, and interior design renovations no longer lead with a mindset of "out with the old," but rather, "what can we do with the old?"
The best way to be sustainable with interior design is to reuse what you already have, whether that is simply rearranging furniture or refurbishing older pieces. For our Poncha Springs Project, for example, we remodeled the main living space and bedrooms. The most rewarding aspect of the new design was reworking the family's inherited furnishings. We reupholstered two chairs, using vintage Native American heirloom rugs as the material for two of them.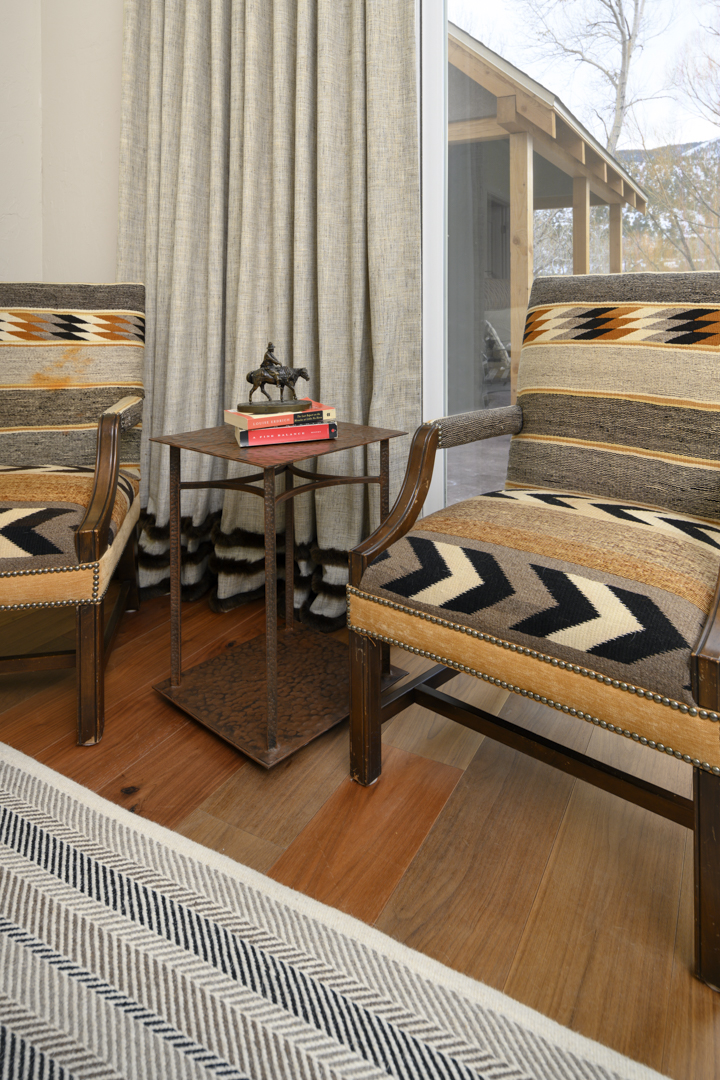 Whether you are repurposing old pieces or buying new ones, pay close attention to the materials used in their making. Look for sustainably grown fibers, recycled content, and non-toxic and eco-friendly products. Some non-regulated substances can use harmful chemicals. Being mindful of the makeup of your furniture is also important in protecting our natural resources, like wood, from being deforested. To avoid harmful sourcing practices, look for labels such as "OEKO-Text Certified," "Greenguard Certified," and "Forest Stewardship Council." These certifications ensure that products are harvested legally and tested for low-chemical and low-particle emissions.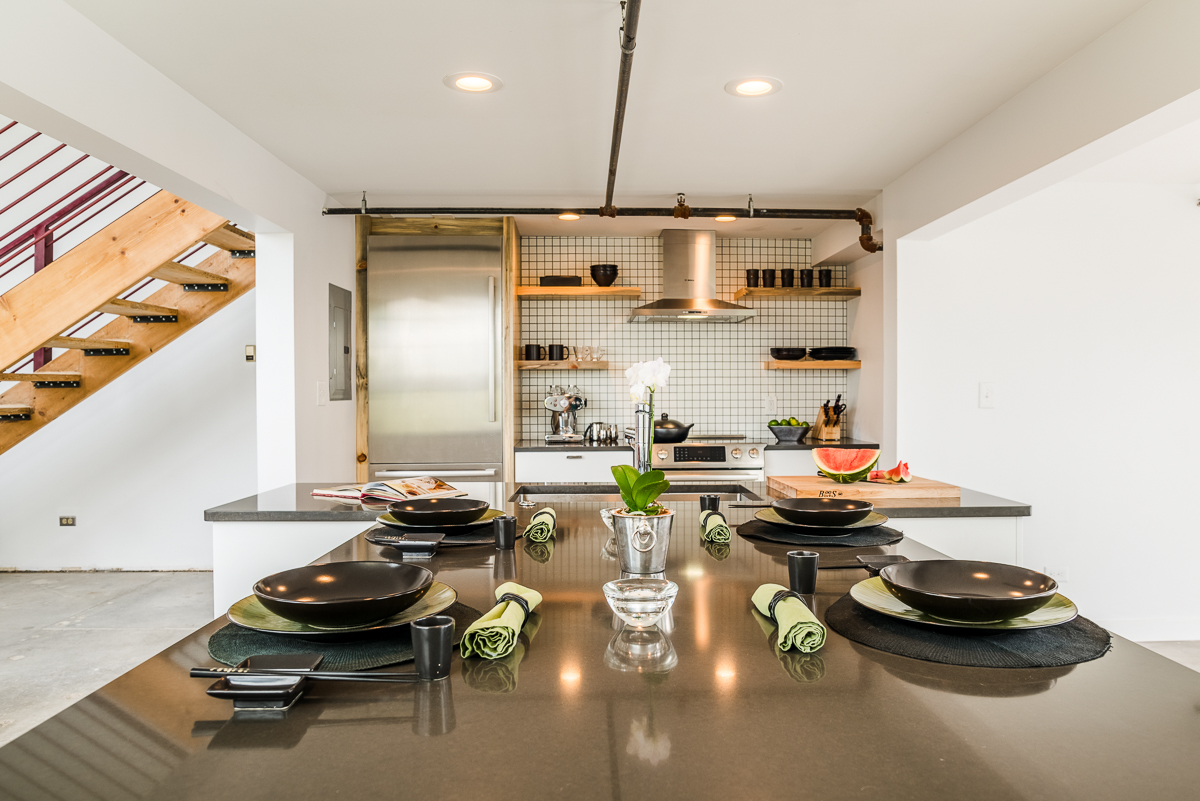 Beetle Kill Pine is an example of an ethical, natural material I have used – I implemented this wood variety in the kitchen of the Blake Street Loft project. The mountain pine beetle has destroyed millions of acres of pine trees by boring into the wood, laying eggs, and cutting off the tree's water and nutrient supplies, ultimately suffocating it. In order to make use of these "dead-standing trees," they can be harvested and turned into wood products like wall paneling, flooring, cabinets, doors, and furniture. For this project, we used the material both for shelving and framing the refrigerator.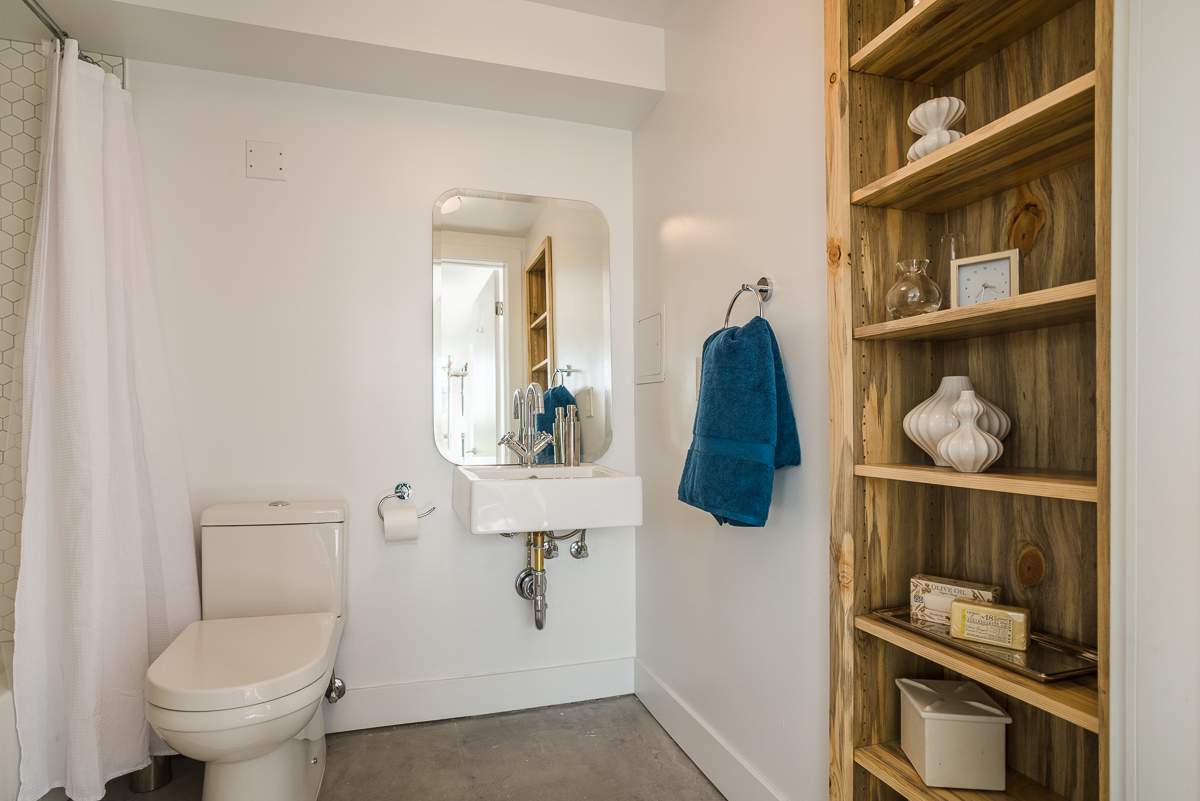 If you do decide to purchase new furniture, a great way to be sustainable is to spend as much as you can afford on high-quality pieces to ensure they will last for decades. What's more, you can paint and reupholster them as your style changes. A lot of retail furniture, especially from companies like Wayfair, is designed to be disposable, lasting only for about five years until ending up in a landfill. As landfills account for 109.3 million tons of methane emissions, the less people add to them, the better.
For sustainable, reliable, and beautifully made furniture, I recommend Kravet Furniture. Nearly all of their waste products are recycled. They are also intentional with their materials, with 20% of their furniture being soy-based, greater than 80% of their metal upholstery springs coming from recycled metal products, and the majority of their packaging being made from biodegradable paper and cardboard materials. Other notable companies that offer sustainable furniture are Etsy Reclaimed Furniture, Maiden Home, and West Elm. By making these mindful design choices, we can all help make a greater impact and lessen our carbon footprints.