Let's be honest, selecting a paint color can be overwhelming. Some people like to do it the old-fashioned way and tape paint swatches up on the wall, while others use more advanced techniques like virtual paint color testers. Regardless of your method, there are tons of paint colors out there to choose from, which can make the decision process anything but easy.
Want a little insider interior designer tip? Use the colors of the year for inspiration. They can help you narrow things down and the colors are usually selected for a reason – they're versatile and eye-catching.
In this blog post, we'll share what you need to know about the 2023 colors of the year and some direction for how you can incorporate them into your space.
What is the Color of the Year?
Every year, paint companies and design experts pick colors that they predict to be representative of the coming year. These colors are meticulously selected, taking cultural movements and our society's current experience into consideration.
Usually, colors of the year are selected in the fall, as a prediction for the following year. The colors are much more than just a trend forecast. They're a representation of where we are as a society, what's had an influence over us within the last year, and how that might affect the year to come.
For example, many of the 2022 colors of the year leaned into greener hues. This was because 2022 represented a desire to move forward from the COVID-19 pandemic and go into the new year with a fresh start.
2023 Colors of the Year
Not all of the 2023 colors of the year have been announced but here are some that we do know (and some ideas on how you can incorporate them into your home!).
Blank Canvas by Behr
Blank Canvas is a creamy, warm white that can easily fit into any part of your home. This color is versatile, bright, and neutral. It can work well in a bathroom, kitchen, or living room. It's a great hue that can brighten up a space, while still maintaining a cozy vibe.
Spanish Moss by Krylon
This deep, forest green is a bold way to add a nature-inspired hue to your home. Its name is entirely accurate as this color matches well with dark, leafy plants. We recommend using this paint color as a way to accent furniture or decor. You can also combine it with colors like gold and beige, as a complement.
Raspberry Blush by Benjamin Moore
A major theme for the 2022 colors of the year was neutrals and soft, green tones. Raspberry blush by Benjamin Moore is anything but that. This bright and bold shade is the perfect accent color to brighten up and warm a room. If you want a maximalist look in your home, you could incorporate this color into the walls or even the ceiling. One thing's for sure: it will turn heads.
Terra Rosa by Dunn-Edwards
This color by Dunn-Edwards is an earthy pink. It can work as a neutral or accent color, depending on how you use it. When painted on your home's walls, it gives off a nostalgic look. It could also be used to create an accent wall or throughout your home's interior to bring warmth and color.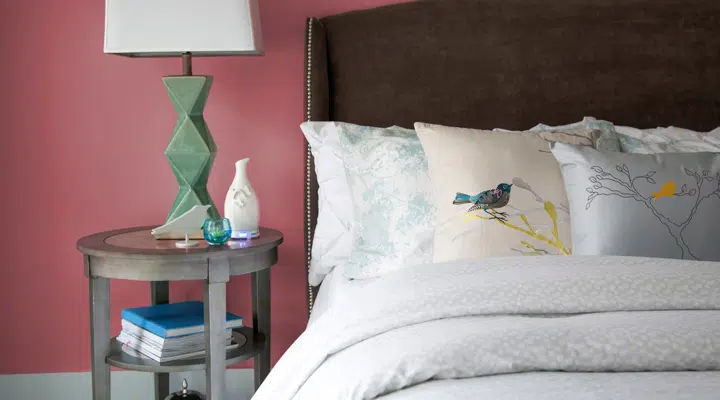 Things to consider when selecting a paint color
Some homeowners think of selecting paint colors as a fun process, while others would beg to differ. There are so many options to choose from so it can definitely feel overwhelming. Even if it does stress you out, it is important not to take the decision lightly – paint makes a huge difference in a room and controls more than you may realize.
Here are some things to think about when picking a paint color for your home:
What feelings do you want the color to give?

For example, some people feel green represents nature and wellness.

What kind of function are you looking for?

Some colors can make a room look bigger or smaller. You can even make the ceiling look higher or lower by selecting certain colors. 

Do you want to bring more light into the space?

If your room lacks natural light, you can choose a color that helps to brighten it. 
Most people know that selecting the right paint color takes time, but many people don't realize just how powerful the right paint color can be. Putting proper thought and intention into paint selection can make all the difference when changing your space. If you're feeling dazed by paint color options, looking to the colors of the year for inspiration can help spark ideas.
Having an interior designer help you with paint color selection can make the process even easier and give you priceless expert perspectives. Schedule a consultation with me so we can work together to achieve your home design goals!