Remodeling a small kitchen can be both challenging and exciting. With limited space, it's crucial to maximize every inch and create a functional and visually appealing cooking area. Whether you've just purchased a condo or are looking to revamp your current kitchen, this blog aims to provide you with valuable interior design advice and inspiration to make the most of your small kitchen remodel. And the best part? You don't need to hire an architect when you're ready to remodel your kitchen. Instead, start by calling an interior designer who can provide you with the right design perspective and work with a contractor to get the teardown done.
Prioritize Efficient Layout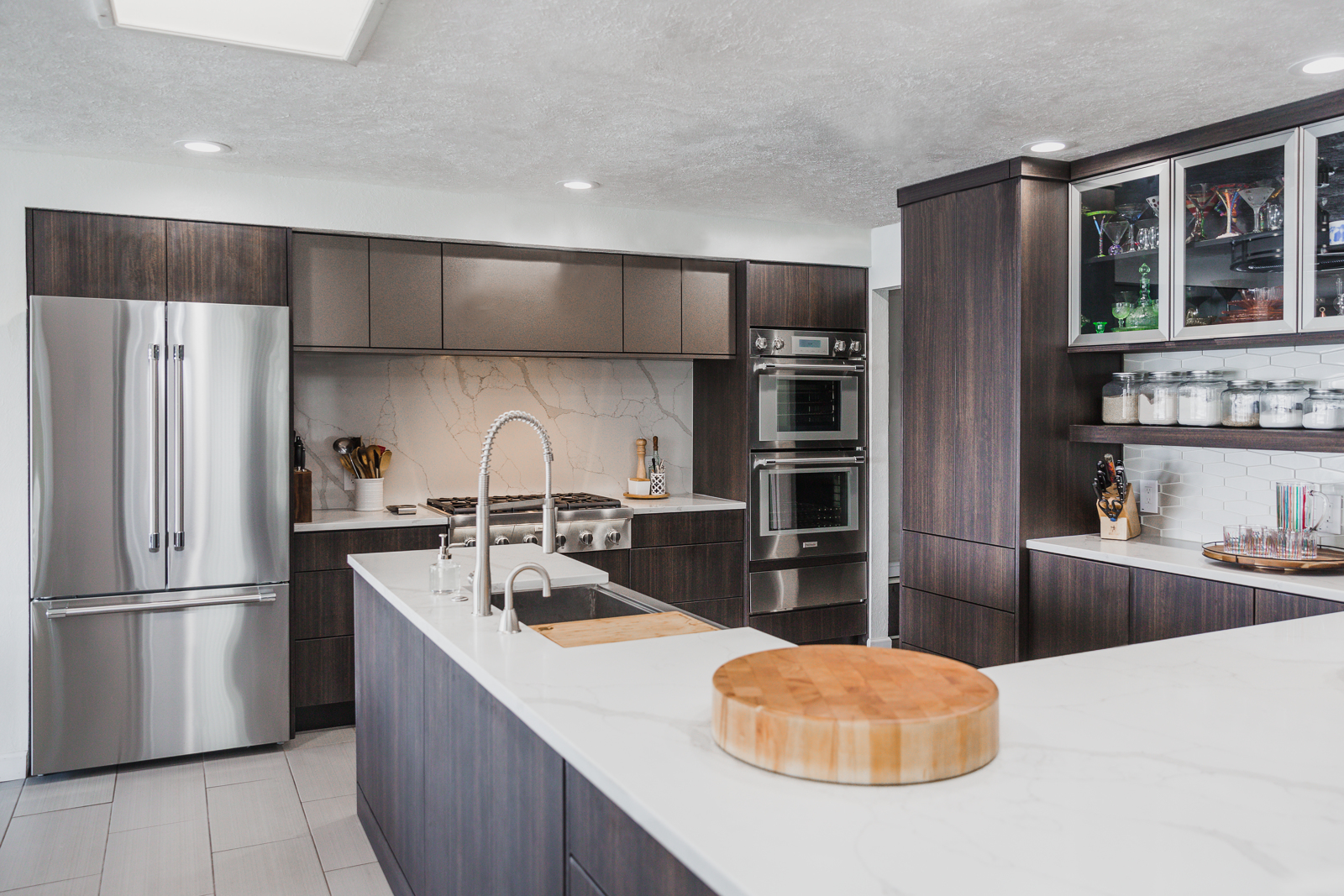 When dealing with a small kitchen, optimizing the layout is essential. Consider the classic work triangle principle, which involves arranging the sink, stove, and refrigerator in a triangular shape for easy movement. Aim for a logical flow that minimizes steps between these key areas. If relocating walls is within your project scope, consult with an interior designer. They will consider your needs, lifestyle, and design preferences while ensuring functionality and flow. 
Embrace Open Shelving and Vertical Storage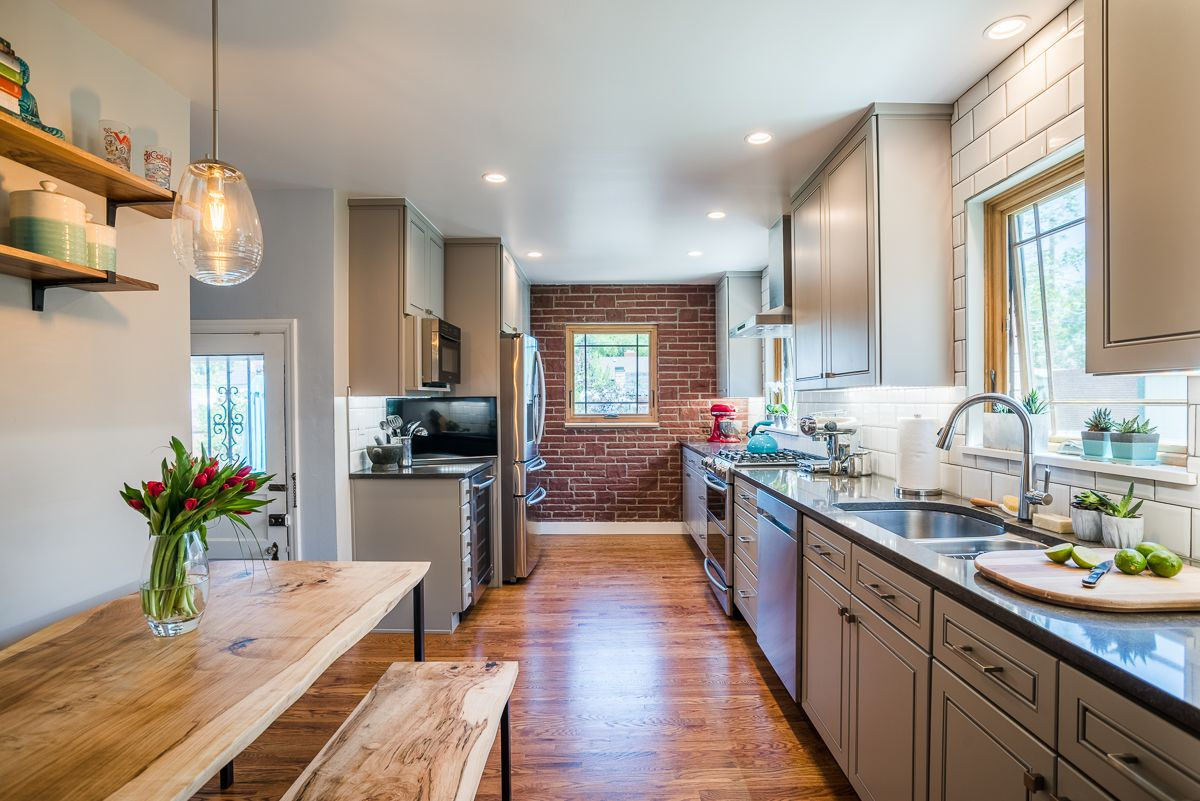 One effective way to open up a small kitchen visually is by incorporating open shelving. It adds a sense of airiness and allows you to showcase your stylish dinnerware or cooking essentials. Additionally, consider utilizing vertical space for storage. Install tall cabinets that reach the ceiling or add hooks and racks on the walls to hang pots, pans, and utensils, keeping your countertops clutter-free.
Opt for Light and Bright Colors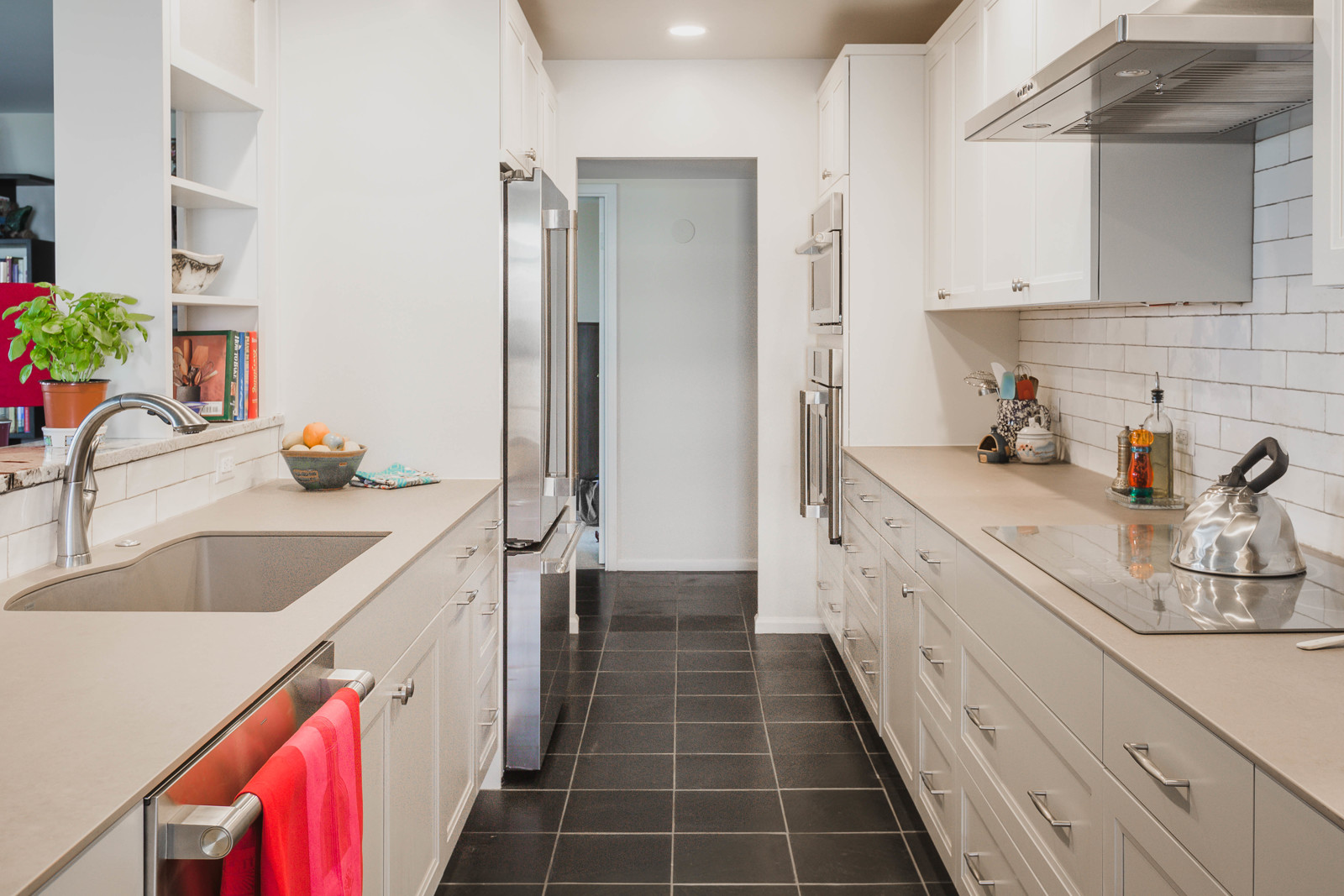 When it comes to color schemes, light and bright shades work wonders in making a small kitchen appear more spacious. Choose soft hues like whites, creams, or pastels for your cabinets, walls, and countertops. Light-reflecting surfaces can also help bounce natural light around the room, enhancing the overall brightness.
Integrate Clever Storage Solutions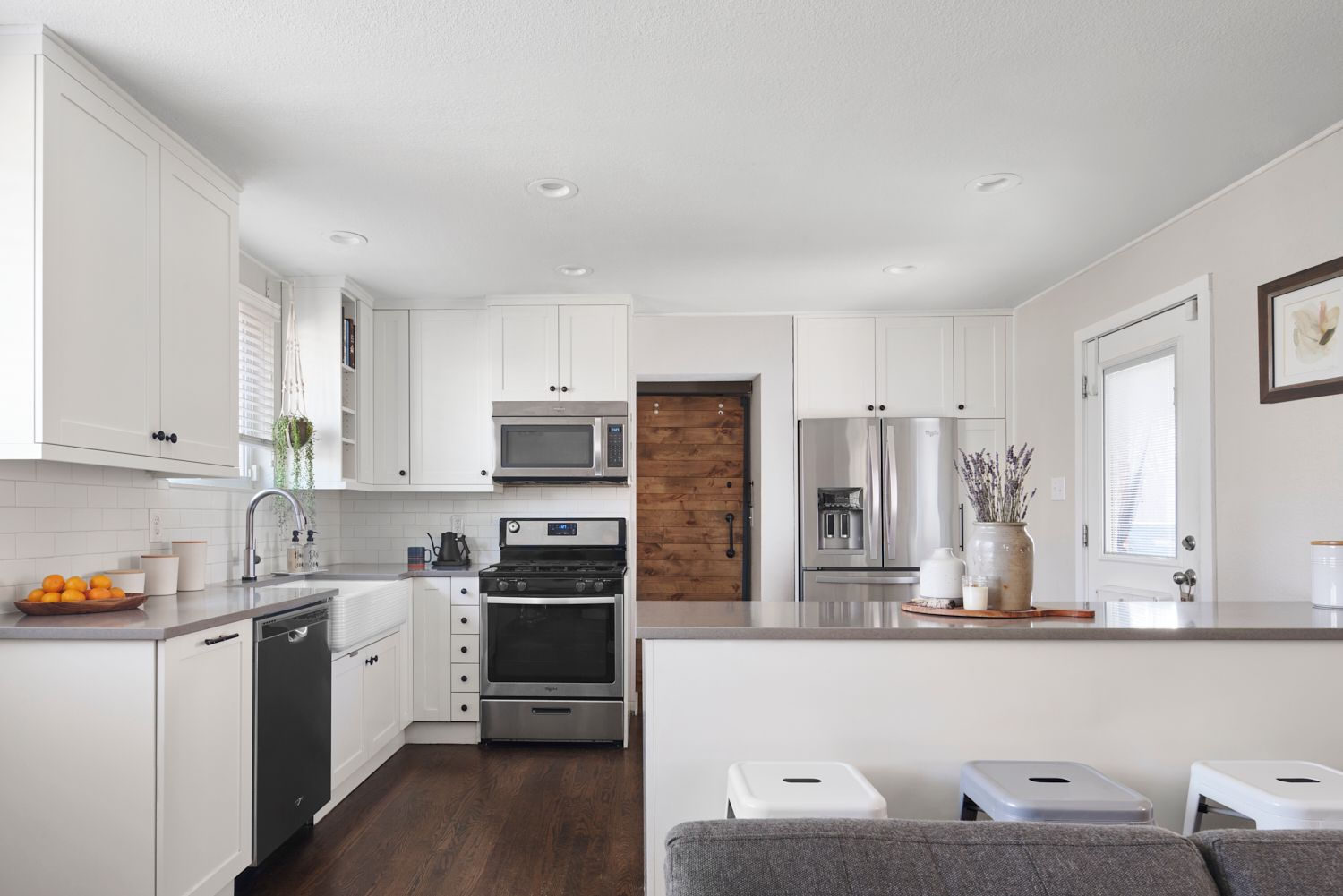 Maximize storage potential by incorporating smart solutions specifically designed for small kitchens. Consider installing pull-out pantry shelves, corner cabinets with rotating trays, or drawer organizers to optimize the available space. Utilize every nook and cranny, including the space under the sink or above the refrigerator, with custom storage options tailored to your needs.
Incorporate Smart Lighting: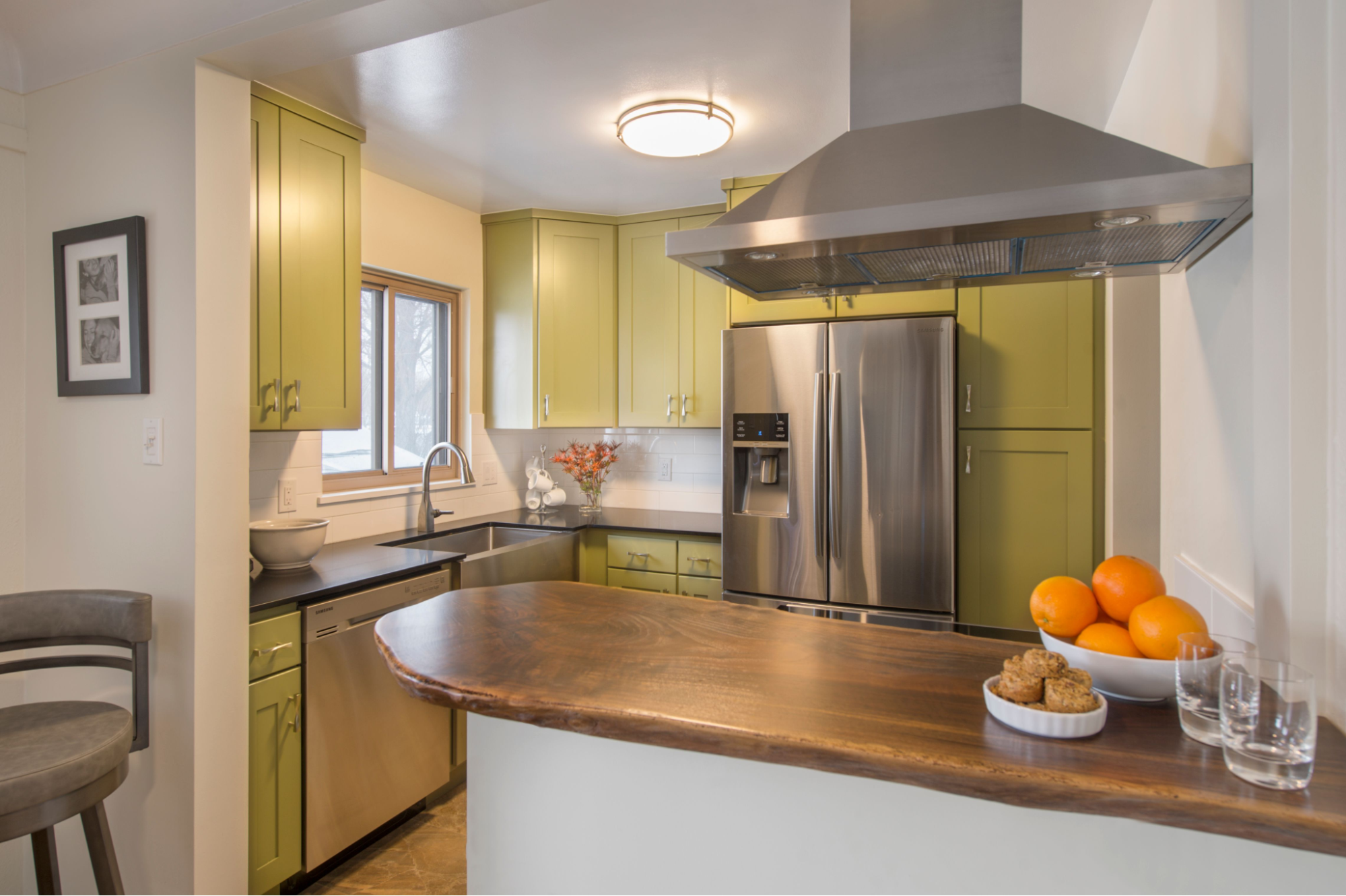 Lighting plays a significant role in the ambiance and functionality of any kitchen. For a small kitchen, a combination of natural and artificial lighting is crucial. Maximize natural light by using sheer curtains or opting for translucent window treatments. Install layered lighting, including task lighting under cabinets, ambient lighting for overall illumination, and accent lighting to highlight specific areas or design features.
Designing a small kitchen may seem like a daunting task, but with careful planning and creative solutions, you can transform it into a functional and stylish space. Remember, a small kitchen can still be the heart of your home with the right design choices and attention to detail.