Spring brings color to our flower beds, baby birds chirping from nests, and long sunny days. People emerge from being snuggled inside all winter and are ready for spring cleaning — out with the old and in with the new! Home design companies time their new product releases strategically, adding furniture and design products to the list of new happenings in spring. If you are ready to freshen the design of your home this season, consider these new product favorites I have selected below.
Arteriors' new Berlin Bauhaus Collection includes an impressive array of trendy, yet historically rooted design pieces. The Bauhaus style is a fusion of the Arts and Crafts movement, which began in the 1800s as an innovative approach to decorative art with elegant swirls and nature, and modernism, which is a more practical, minimalistic, raw-material approach to design. The style is renowned for being both aesthetically appealing and functional.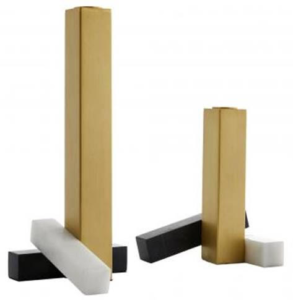 The collection includes this divine Denver Candle Holder Set. In this piece, abstract geometry takes shape in the sleek, antiqued brass steel column, which effortlessly layers into a stacked base of white and black-figured marble. The mix of black, white, and bronze allow you to integrate more materials and colors into your home, as this piece ties every color in seamlessly. The three columns bring shape into your home and are intriguing to the eye, making this an interesting centerpiece or mantle art.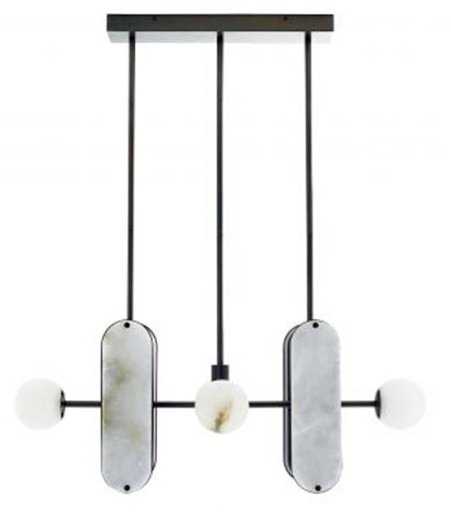 Also from the Berlin Bauhaus Collection is the Maradona Pendant. This light fixture disguises light bulbs into abstract art while still illuminating a room. Each globe or panel has an integrated LED for ample light. The English bronze iron frame contrasts the white alabaster shades well, making the marbled design of the alabaster pop. This piece merges spheres, ovals, squares, and lines. It could enhance a room both with light and design.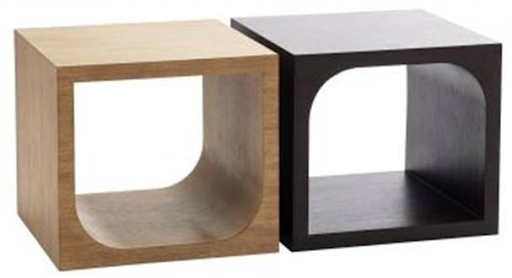 The Neville Cocktail Tables from Arteriors' new collection are a prime example of the Bauhaus style as they are design-heavy and extremely functional. These cocktail tables tell the story of modern geometrics through architectural elements. The perfect cube with a carved arch inside shaping the center combines two opposing angles: round and cornered. 
This two-piece set is crafted from oak veneer — one in an oyster finish and another in an ebony finish. The functionality of this design is that it is multi-purposeful. The two can be used together as a coffee table or apart as side tables.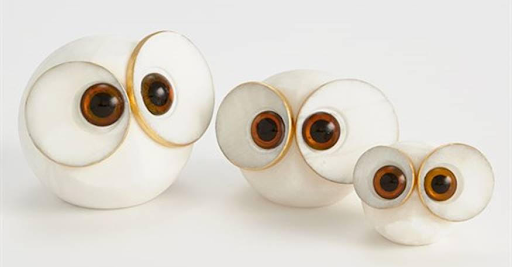 Global Views home design company has been creating unique, individualistic, quality furniture since 1996 and their newest collection did not disappoint. A personal favorite of mine is the Alabaster Big-Eyed Owls. Three circular owls made of handcrafted alabaster with gold leaf accents and glass eyes descend in size. These whimsical figures bring angles and texture into a home with their round shape and shiny and chalky materials. They serve as a conversation piece as they stare at you from a bookshelf or coffee table.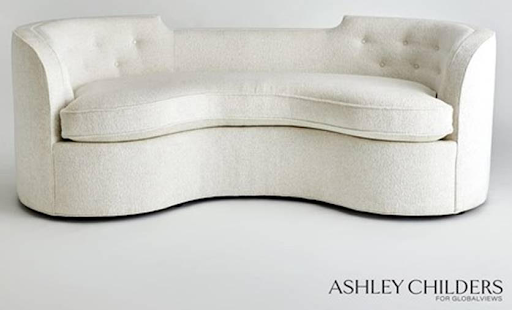 Round shapes and neutral materials have proven to be trendy this spring, and Ashley Childers hit it right on the nose with her Lauren Sofa for Global Views. The couch is chic and classy with all the right curves. The rounded shape, bench seat cushion, and button-tufted detail make the Lauren Sofa a pretty statement piece. It is made for sipping a cocktail in style. Watch not to spill red wine on its amazing white fabric. 
Gold metal tones have been back in fashion for quite a while now but, if you've been hesitant to embrace them, why not just dip your toe in the water with the gold accents on this coffee table. 
Adding these items to your home will spruce up the style for spring.
If you enjoyed this selection and are looking for more pieces like these, Download my Shopping Guide below. I share hundreds of quality suppliers of everything from art to hardware. Happy spring shopping! 
Download Our Shopping Guide
Home Decor Brands We Shop At
If you aren't ready to hire an interior designer, at least you can start shopping like one.