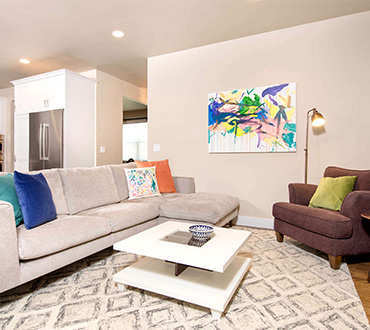 If this is you . . .
You've moved into a new home.
Your old furnishings don't work nor do the paint colors.
You and your partner moved in together.
Trying to combine your furnishings and tastes is challenging.
You're recently divorced and looking for a fresh start.
An inspiring space is important as you navigate your new life.
You're tired of looking at your tired space.
It's time to freshen things up.
You've just finished a renovation.
You love your new space but the rest of your home pales in comparison.
Then my Interior Redesign service is perfect for you.
Working with your current possessions, I'll help you with:


Furniture Arrangement


Art & Accessory Placement


Paint Color Recommendations


Window Treatment Suggestions


How To Fill in the Missing Pieces


At the end, you'll receive a detailed report indicating what you need to complete your space, as your time & budget allows.
CONTACT US
212 S. Olive St, Denver, CO 80230
303-343-3418