What better way to include a unique touch in your space than to add a splash of color, a playful texture, or a vibrant pattern?
Throughout my time in the interior design industry, I have often used wallpaper as a starting point for inspiration, allowing it to influence the overall design of a room. In fact, I find that wallpaper can be a key factor in tieing a room together.
In our Preserve Project, for example, we featured a blue and green color scheme throughout. We lined the powder room walls with a light aqua, patterned wallpaper spattered with red accents, helping to unite the colors in the home. Nestled between the living room and home office, the powder room's colors were specifically selected to be eye-catching as you moved between spaces.
Another project, Park Hill, used a multicolored, triangular-patterned wallpaper in the powder room. To complement this color scheme, we installed a magnified version of the pattern on the floor of the adjacent laundry room.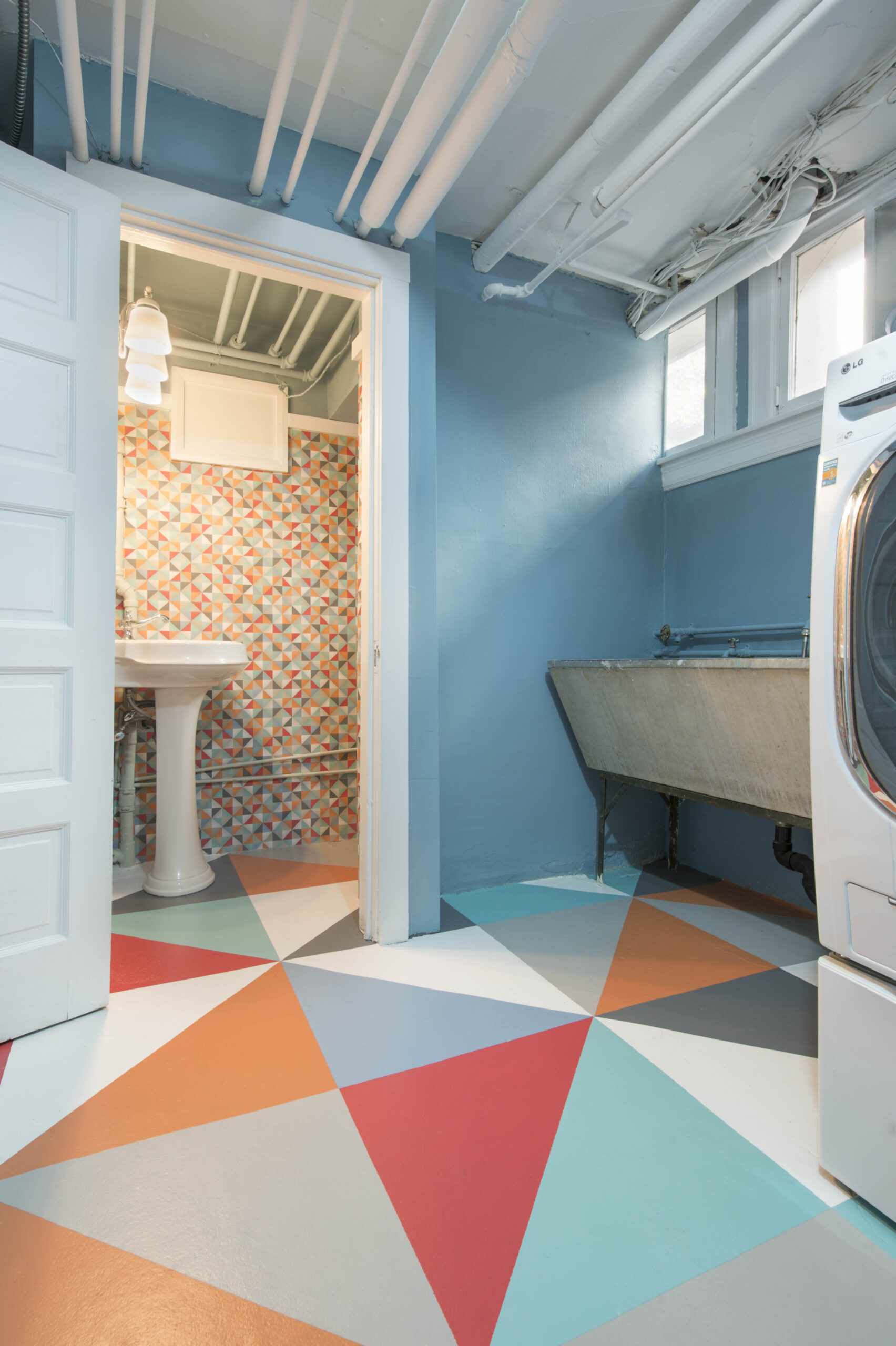 In my own home, I have found that I'm frequently able to best reflect my style through the use of wallpaper. I recently remodeled my current space and implemented three different wallpapers – one in the living room, laundry room, and primary bedroom. One was a dark vertical design, another a light dotted design, and the last, a textured hemp design. While using a variety of patterns and colors may sound conflicting, it can actually result in quite a complementary, beautiful look. Don't be afraid to mix and match!
If working with wallpaper intrigues you, I suggest implementing some of the trends I've outlined below.
1) Tamper With Texture
As technology advances, so do the dimensions of wallpaper. No longer are designers confined to flat-surfaced paper, rather there are a number of options with varying consistencies. If you are looking for a plush, relaxed style, opt for linen. If you are itching for an oasis, hemp or bamboo wallpaper can be the perfect fit. Want a modern, aged look? Try a cracked plaster wallpaper. The options are endless!
2) Go With Graphic Design
Abstract, art-inspired wallpaper is the epitome of new-age interiors. With recent modern interior design trends leaning towards clean lines and minimalism, adding a pop of color through a graphic wallpaper can maintain a contemporary feel while making the space unique and engaging. Artistic elements serve as conversation pieces bringing guests together to interpret them. What a dynamic way to add personality to your design!
3) Do More With a Mural
"We're seeing a resurgence of one of the oldest decorative treatments, the mural," Melanie Adams, Global Manager of Wallpaper Direct claims. "These larger scale wall coverings enable you to set the scene and effortlessly add character and personality to your space."
With a mural, the design of a room isn't encompassed by a pattern, as it is with wallpaper. Alternatively, murals draw viewers' eyes to a scene that ultimately serves to establish the mood. The rest of the room's design follows suit. In a sunroom, try a palm tree or desert mural. For a mudroom, consider a vintage wall mural. Turn your bathroom into a spa with a beach setting.
4) Maximize With Ceiling Design
Paying attention to the fifth wall (the ceiling) is one of a designer's secrets to success. Adding wallpaper to the ceiling offers a way to complete the layout of your room. This subtle addition can add cohesiveness, color, and dimension. It works with paint, paneling, wood, or wallpaper that complements the walls. For more details on this idea, reference our past blog, Let Your Ceiling Make a Statement.
5) Amplify With an Accent Wall
Afraid of committing to wallpapering an entire room? Start with an accent wall! One wall of wallpaper can still add flair, personality, pattern, and color to your space by creating a focal point. To produce a greater effect, pull the pattern or colors of the wallpaper into other design elements in the room, like pillows or lamps.
If you're looking to enrich or liven up your space, these wallpaper trends are sure to make a statement!